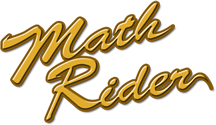 Math Rider is a computer game that helps children in grades 6th-12th , and maybe even their parents, master their addition, subtraction, multiplication and division facts with numbers 1-12. It was created by a dad who wanted his kids to have fun while learning their facts.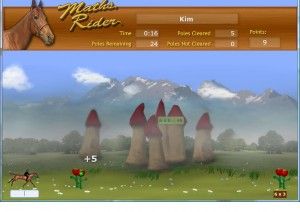 With this game you and your horse, Shadow, must ride through the magical Mathlands and complete the quests. The faster you can answer the addition, subtraction, multiplication, and division facts, the faster Shadow can run the course and jump the hurdles. There are four different quests, and in each you may choose an easy, medium, or hard level. You may also do Practice Runs in which you may concentrate on one particular number or group of numbers in your equations. The program "learns" what your child can do well and what he still needs to master, and it adapts. You may also choose a timed game.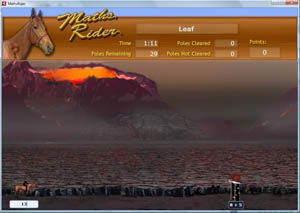 From their website:
-You will know when your child has completely mastered an operation. And more importantly, your child will know it, too!
-This is the fastest way to mastery of all four math operations.
-The artificial intelligence rehearses what is needed most, at a rate that is tailored to each player.
-The game recognizes and rewards math improvement, not just perfection. This builds confidence and propels children naturally towards complete mastery.
-Noble quests exemplify positive values such as family, caring, honesty and kindness.
You can install this on three different computer and each license allows up to 8 players.
One license is $47 but right now until February 15th they have a special and it is only $37.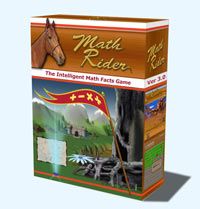 Our thoughts:
I think this is a wonderful way for kids to have fun while learning their facts. It is interactive and they tailor it to what the child needs. It is so much better than the old flashcards method. When it was time for her to "play" Math Rider she did not argue. My daughter thought it was fun and really enjoyed using it but she knows her facts and was getting a bit bored. She wanted more challenging things but did like the fact it was a game :) She never complained about doing it and would get excited to see Shadow go faster.

We were provided a trial offer to review this as part of the TOS Crew. All opinions are mine, and my daughters!